Track Your Assets Today and Increase Your ROI
Manage, monitor, and locate your assets with a single device
Whether your assets are indoors, outdoors, or in transit, Airgain's NimbeLink Asset Trackers leverage both cellular and WiFi technology to give you end-to-end visibility. Their ruggedized shell and long battery life ensure a lower total cost of ownership and the solution integrates with your existing supply chain systems.
When you order a trial kit we'll send you:
3 Asset Trackers with 3 months of connectivity and service
Instant access to a live dashboard
You'll receive all of this for a one-time fee of $500.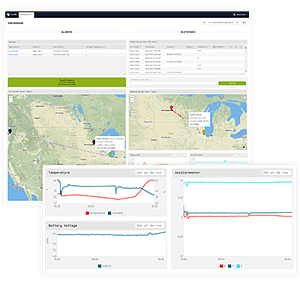 After you unbox your trial kit, we'll help you:
Define fitment and positioning
Establish optimal

configuration

Leverage documented APIs
Develop a volume deployment plan
Place your initial order
100% Satisfaction Guarantee
"NimbeLink is the best solution that not only met our needs, but was an improvement in many other areas, as well. We got lucky that we found a Goldilocks solution."
-Ellie Symes, Founder and CEO, The Bee Corp
Start your trial today with no obligation. Fill out the form below and a representative will get your started. We look forward to working with you!
What people say about Airgain
"Working with Airgain is a great experience. The performance of their products and ease of installation, combined with short lead times, drives a successful business model for OUTFRONT...Airgain ensures we deliver our product on-time and without interruption."
- Hank Anderson, Lead Platform Operations Engineer, OUTFRONT Media
"NimbeLink worked with us to customize a right-size design with everything we wanted, delivering a smart, purpose-built solution very quickly."

- Chris Baird, Executive Vice President, OptConnect
"...Submitted a schematic review, which I thought was just a formality. Instead I received a very thorough review on the design with suggested changes."

- Rob Crouthamel, Co-Founder, Farm Jenny