Get $1200 total in cost savings when purchasing a new FirstNet Ready™ MegaRange™ AirgainConnect AC-HPUE device with new activation
For a limited time, receive a $400 MSRP reduction to customers in select states for AirgainConnect and an additional $800 in service credits from FirstNet! Built with AT&T – America's public safety network! See details below.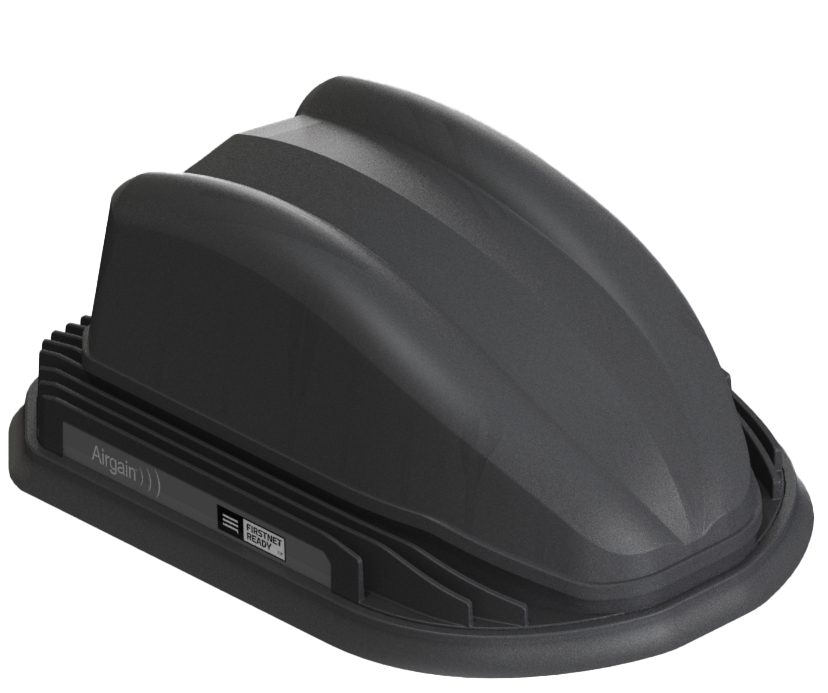 Contact Us to order AirgainConnect
Eligible Device: AirgainConnect® AC-HPUE™
The AirgainConnect platform combines a FirstNet Ready™ integrated HPUE LTE modem and antenna assembly in a single enclosure, dramatically reducing signal loss and increasing range. AirgainConnect AC-HPUE is the first and only antenna-modem, built for FirstNet® MegaRange™, the high power user equipment (HPUE) solution available on Band 14.
This rugged vehicle antenna-modem solution meets the most demanding requirements of Public Safety and Fleet vehicles, providing substantially increased performance for critical communications. AC-HPUE delivers the maximum allowable radiated power directly to the LTE antenna elements.
*Offer Details: The FirstNet® MegaRange™ $800 service credit with purchase of eligible devices and AirgainConnect AC-HPUE device $400 MSRP reduction are each offered for a limited time. This combined offer is available in the following select states: Arizona, Colorado, Connecticut, Delaware, Florida, Hawaii, Idaho, Illinois, Iowa, Kansas, Maine, Maryland, Massachusetts, Michigan, Minnesota, Montana, Nebraska, Nevada, New Hampshire, New Jersey, New Mexico, New York, North Carolina, North Dakota, Ohio, Oregon, Pennsylvania, Tennessee, Washington, Wisconsin, and Wyoming. Eligibility: Available beginning August 6, 2021 to public safety entities with a FirstNet Service Agreement (Business Agmt) and only for Agency Paid User lines of serv. Subject to availability. Not available in all sales channels. New subscribers must qualify for FirstNet service and complete verification process w/in 30 days. Device must use a FirstNet SIM. Check eligibility at firstnet.com/eligibility. Requires new line and purchase of a new eligible AirgainConnect AC-HPUE device w/elig. postpaid data svc. (min $34/mo on FirstNet Mobile-Pooled) to receive $800 credit on service – upgrades are ineligible. Other qualifying plans avail. Full $800 service credit amount applied within 4 bills. $400 MSRP reduction applied at point of sale. Tax on sales price due at sale. Activation Fee: Up to $45/line. Return/Restocking: Return w/in 30 days. Restocking fee up to $55 may apply. Limits: Limit one credit per qualifying purchase. May not combine w/other offers, discounts, or credits. Talk to your customer service representative for offer details.
GEN. WIRELESS SVC: Subj. to applicable Business Agmt (see your AT&T representative for terms.) Credit approval req'd. Deposit: may apply. Limits: Purch. & line limits apply. Additional monthly fees & taxes: Apply per line & include Regulatory Cost Recovery Fee (Up to $1.50), Administrative Fee ($1.99), Property Tax Allotment surcharge ($0.20-$0.45) & other fees which are not government-required surcharges as well as taxes. Additional one-time Fees may apply. See www.att.com/mobilityfees for more details. Usage, speed, coverage & other restr's apply. International and domestic off-net data may be at 2G speeds. AT&T & FirstNet services subject to AT&T network management policies. See att.com/broadbandinfo for details. Pricing, promotions, terms & restr's subject to change & may be modified or terminated at any time without notice.
AT&T is the property of AT&T Intellectual Property. FirstNet and the FirstNet logo are registered trademarks of the First Responder Network Authority. All other marks are the property of their respective owners. All logos used under license.